Cabinet & Bath Hardware for Urban Spaces - Small kitchen or bath spaces also deserver great hardware to compliment them. Thankfully, the hardware industry has developed great products that support urban designs and functionality requirements. The designs are often contemporary, supporting minimalist design features and creating clean lines around the kitchen and bath. (Image Source)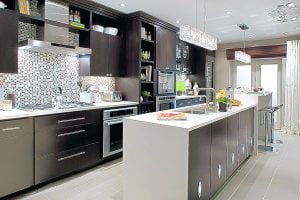 Saving Space in the Kitchen - For limited space kitchens, consider including recess or tab pulls into your cabinet hardware. Tab pulls are gaining popularity in many urban kitchens. Knob Deco has recently added a great line of tab pulls from Schwinn Hardware. The 2 inch tab pulls from Schwinn come in great contemporary finishes including satin nickel, polished chrome, or matte chrome. Schwinn hardware tab pulls have been designed to minimize their visual presence but offer ease when opening and closing drawers and doors.
Recessed pulls are another great options for kitchens with limited space. Recessed pulls are a more mature offering in the cabinet hardware industry and you can find them from many different manufacturers and in dozens of finish types. To compliment your high end cabinets, incorporate a recessed pull from Sugatsune or Giusti. Sugatsune offers Japanese design and manufacturing perfection in their cabinet hardware. Giusti recessed pulls are designed and manufactured by fine Italian standards. Knob Deco also carries recessed pulls from additional manufacturers including Richelieu Hardware and Linnea Hardware.
Maximizing Bath Space - If your bathroom has limited space, there are lots of great products to give you functionality you would find in a full bath suite.
With limited wall space, you might have trouble finding enough wall space for multiple towels to be hung. Consider a double towel bar that allows two towels to be hung one directly in front of the other.
For tight areas around a toilet, order a recessed toilet tissue holder. These holders will minimize the distance a toilet tissue roll will protrude from the wall. Knob Deco has a large selection of recessed toilet tissue paper holders from Liberty Hardware. They are available in a wide variety of finishes including white, satin nickel, and chrome.
Knob Deco also carries a wide variety of compact vanity units. The Elements Lindly 26 ½ inch vanity in espresso with granite top and preassembled bowl will offer you great organizing functionality in your tight bathroom. Our vanities will help you transform your bathroom quickly and efficiently with great style.
Let Knob Deco (http://www.knobdeco.com) help you find hardware solutions for your urban kitchen or bathroom. Our team of customer service and design specialists will be excited to come up with great solutions for you.